©2015 Melissa Tamberg-Heffron, as first published on Scary Mommy / Club Mid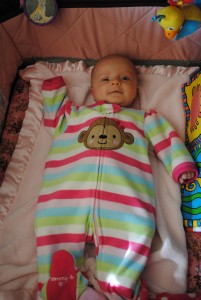 We call Aubrey our "unexpected blessing." It has a better ring to it than "Whoops Baby."
To say that my third child came as a surprise is kind of like saying Elsa cast a slight chill in Frozen.
I mean, the likelihood of another pregnancy was implausible at best. Not only was I already 40 years old (over-the-hill signs appropriately displayed at my surprise party, check) with a long history of endometriosis (total fertility killer, check), but I was equipped with just one remaining ovary (the other having been removed six years earlier in a proactive approach to combat recurrent surgeries for benign ovarian cysts, check). And besides, we were done having children; my husband had a vasectomy scheduled that very week. So after consuming a short course of antibiotics, I didn't think twice about the effectiveness of my about-to-no-longer-be-needed-anyway Pill. Really, what were the odds?
Apparently, I should be playing the slots in Vegas and/or snatching up lottery tickets. Because despite the overwhelming unlikelihood, the stick still turned blue (on April Fool's Day, no less!).
When my first child was born in my 20s, I was considered a young mom. Three years later, when his little brother entered the world, I was an experienced mom. But from the moment Unexpected Baby No. 3's heartbeat pulsated on the ultrasound machine, I was immediately designated a "Mother of Advanced Maternal Age," an identity I was reminded of roughly 1,143 times throughout my pregnancy (but who's counting?).
It wasn't the last adjustment I'd have to come to terms with. In fact, when you add a late-in-life baby to an already fully operational family, be prepared to address some challenges.
1. You'll have horrified teenagers (at least initially).
I'll never forget the dumbfounded looks of our two boys when we told them I was pregnant. It was a mix of instantaneously trying to squelch any image of their impending sibling's conception (oh, the revulsion!), combined with the typical teenage egocentric thought process: Exactly how is this going to impact my life?
Later, they became acutely aware that their baby sister was actually a pretty powerful chick magnet. Tagging along to her brothers' high school games, Aubrey attracted the attention of just about every cheerleader on the squad. In fact, at Tanner's pre-prom photo festivity—where parents were graciously granted 30 minutes to document their kid's senior rite of passage—I think I snapped more shots of Aubrey with her harem of adoring girlfriends than I did of my son looking sharp in his tux.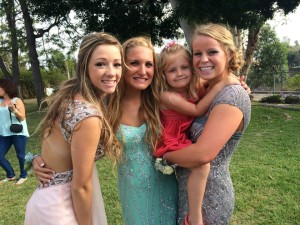 2. People will ask if the baby is yours.
Yes, some folks really are that rude. And if you happen to be accompanied by teenagers, the insensitive inquirers will automatically assume the kid belongs to them.
3. You'll get to revisit the wonders of childhood.
Prior to Aubrey's birth, the last time I'd had cause to mention the word "Santa" dated all the way back to my younger son's fourth-grade mid-year conference. Before even getting to discuss Braden's math scores or dubious penmanship, I had been reprimanded by his teacher for his apparent Scrooge behavior. (A classmate's mother, who occupied the conference slot immediately before mine, had blasted my child for "ruining their holiday" after Braden told her son that "Santa doesn't really exist.")
Well, welcome back to the family, Saint Nick! With Aubrey under our roof, all fairy tales began anew. We not only get to hang our stockings by the chimney with care, we also hunt down every last egg hidden by the Easter Bunny, sprinkle pixie dust on a whim, swap teeth for cash, and shop for adorable, fuzzy animal costumes at Halloween. Not to mention, no more gifting of only teen-centric techno gadgets and (boring) items of clothing. It's toys, glorious toys, all over again! Woo-hoo!
4. You'll have to make new friends.
Those buddies you've been hanging out with for years? You know, the ones whose kids are the same ages as your original offspring? Yeah, they did diaper duty last decade thank you very much, and are now more focused on preparing their empty nest. In other words, you need to find some new pals. And yes, you might feel like the grandma of your contemporary group. Get used to it. The mother of one of my closest new friends is only 10 years my senior.
5. Consider doing Disney divided.
When your kids have an age gap the size of the Grand Canyon, it's not easy to juggle everyone's wants, needs and pastimes. So compromise. When we visited Disneyland, rather than force the teens to endure two-hour lines to greet Snow White and Ariel, we instead set them loose at the adjacent Disney California Adventure, where they were free to drop 13 stories on the Twilight Zone Tower of Terror. (Granted, my husband and I were subjected to our own form of terror having to accompany Aubrey on 18 consecutive rounds of It's a Small World). Similarly, on a family vacation to Maui, my husband and the boys disappeared for half-day hikes while I remained back at the beach, perfectly content to lounge in the sand with my little girl (whose corresponding little legs weren't quite ready to navigate steep inclines and cliff jumping).

6. Allow any thoughts of empty nests to fly the coop.
Because it ain't happening for a very long time. And to be honest, I'm incredibly relieved. The same week my baby entered preschool, my eldest started college—1,700 miles away, no less. The already painful adjustment—exacerbated by the knowledge that his brother would follow suit just a couple years later—would have been unbearable were it not for the fact that Sesame Street continues to be a mainstay in our household, and I'm still slicing peanut butter and jelly sandwiches into triangles.
7. Be ready to experience a bittersweet sense of loss.
Over and over and over again. After having my first two kids, I not only knew I was done, I was perfectly content with that decision. But when you are unexpectedly reintroduced to motherhood later in life, somehow everything changes. You become acutely aware that each of your baby's firsts is also, painfully, a last. The passing of each milestone is experienced like a punch to your now absolutely, positively, without-a-doubt retired uterus.
The addition of my late-in-life girl has forced me to adjust my approach to motherhood in ways I never would have imagined. But regardless of the challenges—and no matter how many times I am reminded of my advanced maternal age—one constant remains: Every day I give thanks for my unexpected blessing, the little Whoops Baby who forever changed my life.