While pitching an inning in the final game of his college season today, my son intentionally tried to peg a batter.
And I couldn't be more ecstatic.
Yes, I recognize that as a parent, this isn't the most appropriate statement to make. I understand there will probably be some haters and judgers and maybe even a few rabid Baseball Moms who will undoubtedly frown upon my confession. I get that.
But my kid needed this.  And as his biggest supporter and greatest fan, so did I.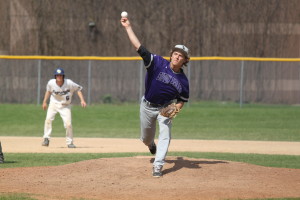 Let me first assure you that nobody was injured. Tanner wasn't aiming for the guy's head or anything. Instead, he hurled the ball just behind the batter, barely missing the back of his jersey. But it was enough to warrant the threat of ejection by the umpire and a near-clearing of the dugouts by both teams.
That single pitch had far more significant ramifications, though. The lone fast ball restored in my son a sense of passion for the game, and bridged an unmistakable camaraderie with his team — two stats I had been certain held no shot of being achieved before the season's final out was recorded.
You see, it's been a rough first year of college baseball. Playing on a scholarship more than 1,700 miles away in South Dakota, my Southern California born-and-raised eldest has faced greater hurdles than just missing the sun and surf of his home town.
Through the first five months of school, Tanner juggled a full load of courses with daily 5 a.m. weight room sessions and marathon afternoon practices. Often, the weekday workouts extended so long that by the time players returned to campus — famished and fatigued — the dining hall had already closed for the night.
Then there were South Dakota's Brutal B's:  Blizzards (no explanation required); Bugs (mosquitoes so large they could overshadow a small airplane);  and Batteries (on one miserable occasion, Tanner had to change his dead truck battery all by himself in a -2 degree wind chill factor).
But despite the harsh conditions, the inevitable homesickness, and the slew of other normal adjustments all college freshmen are forced to endure, the kid barely murmured a complaint. Instead, with unwavering resolve he kept his eyes on the prize:  earning the coveted starting spot at third base.
And when the season finally kicked off in February, the bag was his.
Unfortunately, he was then thrown a mean curve.
Without delving into great detail, it quickly became apparent that Tanner was not in the optimal environment to continue pursuing his baseball career. With a starting lineup that featured five freshmen, his team was facing off against opposing rosters deep with seniors, culminating in a rocky 0-8 start. But the gloomy scoreboard display wasn't the issue.
Despite having recruited an exceptionally talented roster of underclassmen, Tanner's coach seemed to lack the skills needed to nurture and develop his promising young players. Sadly, there is an enormous divide between being a tough coach (which the best often are) and one who tragically teeters between apathy and bully. Both, I have learned, hold the power to transform the game of baseball for a player, though with vastly different outcomes.  (The number of Tanner's college teammates who will be vacating the program after this season — not to mention an unusually high rate of player turnover the past several years — tells its own story. Enough said.)
But as a mom, what was killing me was witnessing Tanner's passion for baseball — which has dominated his life the past decade — slowly being leached away as the season progressed. By the time the team finally secured its first win, he was already researching transfer possibilities at several West Coast schools. (Because why continue to suffer through the prairie's Brutal B's if the whole purpose for being there— Baseball — had now joined that unfavorable category?)
Several weeks later, when pressed to sign his NCAA commitment letter for next season, Tanner let his coach know upfront that he would not be returning. And shortly thereafter, the only action he saw was from a spot on the bench. It wasn't surprising; in fact, we had all anticipated that he might be pulled from the lineup so coaches could use the final dozen or so games to assess possible replacements for next year's spot at third.   At first, Tanner was fine with the decision, having spiraled into such a space of indifference that he confessed to me he didn't even want to play.  It was painful to watch him slip further and further away from the connection, pride and confidence he has always reaped from being part of a team, regardless of its record.
But as his innings on the bench dragged on, I could sense that Tanner was itching to get back onto the field. Yet that prospect didn't appear promising as his team entered its final four-game series on the road in Minnesota. And then in the very last match up, just three innings away from the team dropping its 14th straight contest, something totally unexpected happened.
With nothing riding on the game — any shot of making the playoffs was long gone — one of Tanner's teammates parked a home run. This sparked some serious smack talk from a couple of infielders on the opposing team, followed by what was perceived as an intentional pegging of a South Dakota player at the plate. And in that instant, retribution began brewing within Tanner's dugout.
A game steeped in tradition, baseball's unwritten rulebook has long sanctioned the act of retaliation (at the college and MLB level) after a batter is intentional hit-by-pitch. For those less familiar with the intricacies of  America's greatest pastime, watching one's teammate be deliberately pegged is kind of like a parent witnessing a playground bully push their child to the ground;  you don't just stand by and allow it to happen. Adrenaline kicks in. Every protective nerve pulsates through your body. Consequences must be doled out. Justice must prevail.
Whether explicitly communicated by the manager or simply implied among teammates, the revenge — usually nothing more than a fastball placed squarely between the numbers — can unite a band of brothers like nothing else. It's the ultimate "got your back."
So despite the fact that Tanner wasn't even listed on the team's pitching roster, he immediately volunteered to go to the mound and even the score. With Minnesota's best player due up in the bottom of the inning,  the target had been identified and into the game my boy went.
Tanner's fast ball may have narrowly missed, but its intent did not. Without hesitating, the fuming batter broke toward the mound. He and Tanner exchanged a series of words I won't repeat while teammates rose from their respective benches ready to rush the field.
The imminent melee was cut short by the umpire, who warned both Tanner and his coach that they would be tossed from the game if any further (even-remotely-suspicious) activity ensued. "Since Coach had already been ejected twice before, I couldn't try to hit the guy again," Tanner later shared with me. "But Coach was saying to me 'nice job, way to try to do it for the team!'"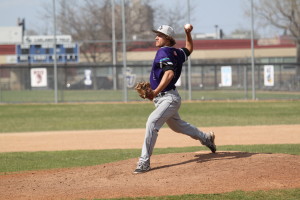 In the end, it didn't matter that the ball missed the batter, or that Tanner's team lost the game, or that the season closed with an unimpressive 15-35 record. Or even, that Tanner wasn't coming back. It's a story I know he will be sharing — with excitement and quite possibly a touch of embellishment — for years to come, if not a lifetime.
But more importantly, as a result of heaving that one ball, Tanner merited an extraordinarily rare "Atta boy" from his coach. That single pitch reconnected  him to his entire team. It ended an excruciating season on an incredible high. It reignited his passion.
It made him feel good about himself.
And as a mom, what more could I possibly desire for my child?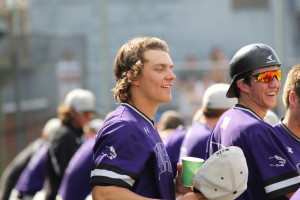 Tanner culminated his first college baseball season with a smile among  teammates.