Republished Sept. 23, 2015 on Military Spouse
To honor her husband's 40th birthday last month, my friend Chrissy thoughtfully planned a day filled with his favorite festivities: a competitive round of paint ball among his closest pals, grilled carne asada dinner, and a luscious homemade birthday cake — with the candles tenderly blown out by the couple's 3-year-old daughter, Sienna.
On the surface, it might sound like any other birthday bash, but what was atypical about this celebration is the fact that Chrissy's husband, Floyd, wasn't in attendance.
It's been nearly four years since he was killed in the line of duty in Afghanistan, yet I continue to be inspired by the myriad ways Chrissy pays tribute to her fallen Marine.
Sienna —blessed with her daddy's adventurous spirit, twinkling eyes and sandy brown hair —tragically never had the chance to meet him in person. Yet there is no doubt she knows exactly who he was — a priceless gift that is a testament to Chrissy's unwavering commitment to preserve his memory through creative and intimate traditions.
Every Father's Day, Sienna fastens sweet messages to a bouquet of balloons then releases them at the site of Floyd's military monument. It's a first-class parcel to heaven, personally stamped with her kisses.
Adorning the family's walls are photos from a recent shoot, with Chrissy flanked by Sienna and her two older children on a beautiful Southern California beach. Yet far more captivating than the backdrop of a dazzling sun setting into the Pacific is the inscription of Floyd's name within a giant heart in the sand.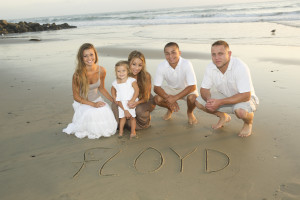 Perhaps most significant, Chrissy constantly exposes her daughter to an entire corps of friends and family members who adored her larger-than-life daddy, and who will continue sharing their irreplaceable first-person accounts with her as she grows.
This faithful familiarity is likely what prompts Sienna to routinely talk about Floyd in the present tense. "My daddy has boots just like that," she once told me during a play date at our house, pointing to my husband's steel-toed set. (Chrissy later recounted how she had found Sienna standing in the closet one day, her pristine feet engulfed within Floyd's colossal combat boots.)
She may only be 3, but Sienna seems to understand, inherently, that her father was a brave, kind and honorable man. Indisputably, she is a bright, happy and well-adjusted little girl who knows her daddy — not just knows about him — and loves him as much as any other daughter who is blessed to have her father walk through the door at the end of each day.
As the months have folded into years since the Marine's untimely passing, there has been the occasional caring and concerned whisper suggesting that Chrissy might not be "moving on" — that because Floyd is still so prominent in her life, she may be stuck in her grieving process.
But I beg to differ. Chrissy isn't consumed by grief. Rather, she is consumed by love.
Leo Tolstoy said, "Only people who are capable of loving strongly can also suffer great sorrow, but this same necessity of loving serves to counteract their grief and heals them." Chrissy embodies this with a striking display of grace.
Just as our personalities are multifaceted and diverse, so are grieving styles; everyone has a unique way of handling tragedy. Those like Chrissy who choose to bear witness to a deceased loved one through private or public measures gain a unique channel to the person they lost. They can preserve and honor his or her memory, while carrying forward the treasures that special person left behind.
Chrissy's grief rituals not only allow everyone who loved Floyd to remember him in tender, healing ways, but they provide Sienna with a direct conduit to the special man who passed from this world just mere weeks before she entered it. In paying tribute as she does, Chrissy has helped her family and friends continue to heal and strengthen their hearts, as well as her own.
Which is not to say that every moment is bursting with cheer. Each year on their wedding anniversary, Chrissy compiles a moving photographic tribute to Floyd that she shares on Facebook. Overflowing with equal parts love and loss, it is a Kleenex-inducing reminder of a beautiful love story cut far too short.
In yet another admirable display of her strength, she occasionally sets aside designated grief times — private spaces in which she allows herself to weep, yell, despair and rail against the injustice of having lost the love of her life so early. And then just as swiftly, Chrissy picks herself up and braces for the inevitable moments when she must summon all of her resilience and poise.
Such as this week, when Sienna described a dream she'd had in which her daddy was waiting outside her dance class. "I wish I could accurately describe the joy she had on her face as she quietly told me this," Chrissy shared with me, choking back tears. Her little girl had then asked, with eyes full of hope, "Do you think that can happen, Mommy?"
To hear Chrissy reassure Sienna that her father can't be there in person because he is busy doing the work of angels — but is always watching over her — is inspiring and heartbreaking, in equal measure.
"What I wouldn't give for those two to have even just a moment together," Chrissy acknowledges. "Yet knowing that she feels her daddy's presence is all I could have ever hoped for."
And without a doubt, a direct result of her unfaltering devotion to lovingly uphold his memory.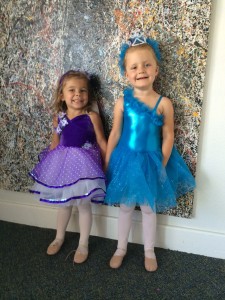 Sienna and my daughter, Aubrey, at their first dance recital.