Few things have the power to instantaneously pulse terror through a mom's veins like hearing your teenager gasping for breath on the other end of the phone. I discovered this firsthand a few weeks ago, when my 17-year-old son was so distraught that he had to pull his truck over to the side of the road and dial my digits.
There was no medical crisis, no narrowly averted car crash, no girlfriend drama — all of which prompted a mother-lode sigh of relief. Yet in some ways, the source of his angst turned out to be far more disconcerting.
My son had reached his breaking point. Completely demoralized, discouraged and infuriated, he was done with high school baseball this season and begging me to let him quit the team.
It was the culmination of a very long and tumultuous off-season, one that had commenced with his coach being placed on administrative leave pending an investigation into an allegation. In the interim, an assistant coach had been tasked with overseeing the fall and winter ball programs, both of which my son participated in. At the same time, several parents and players — our family included — publicly supported our former coach. While the overall situation sadly proved to be a divisive fracture for the team as a whole, my son remained focused on baseball, doing everything the acting coach asked of him.
When our former coach was eventually let go several months later, opening day loomed just weeks away, leaving school administrators insufficient time to search for a qualified replacement. So the position was subsequently granted to the assistant coach.
And that is when my son was dealt an unfortunate curve ball.
Although having been a starter at his position throughout high school — including during fall and winter ball — he was suddenly relegated to the bench, a shift we suspected might be a retaliation move by the interim coach for my son's fervent endorsement of his former coach. As the official spring season got under way, my son's absence on the field began to draw attention — other parents were constantly asking me if he was injured.
On numerous occasions, my son approached the coach and asked what he could do to earn his starting spot — or at the very least, get into a game — pointing to his work ethic, his production numbers, his leadership and dedication to his sport. But he was given neither a solid reason for not playing, nor a course of action required to merit a spot in the lineup.
As our son grew increasingly frustrated, my husband and I initially encouraged him to hang on — and he did. Through one more game. And then another. And yet another. He cheered on his teammates as each rotated into the game; every single one except for him. Finally, it became clear that it was in our son's best interest to resign from the team. Here's why:
1. Staying on the team was crushing his confidence. Ultimately, backing my son's decision to hang up his cleats had absolutely nothing to do with playing time and everything to do with his well being. Despite the fact that his teammates were championing for him to be out on the field, the coach's decision to overlook him game after game was whittling away at his self-worth. For all the ways a first-class coach can positively impact a player, it's frightening just how devastating the effects of a poor one can be. When my son quit the team, the coach never once tried to encourage him or ask him to stay. He simply accepted my son's uniform and walked away. And in that gaping silence, all of our suspicions about his motives were candidly confirmed.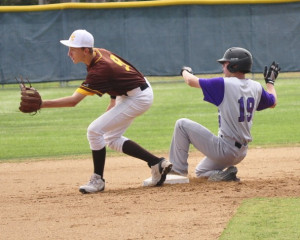 2. Leaving the lineup will ultimately make him a better player. Considering all the hours required of daily practices, multiple games per week and travel, my son was investing a significant amount of time into baseball without ever getting his uniform dirty. Resigning for this season affords him the opportunity to continue working on his own — hitting the gym, logging time in the batting cages, and fielding with friends. Not to mention, the freedom of this new schedule enables him to focus more on his studies and college prep.
3. He's learning that life isn't always fair. There are players on the team who may not put in as much work as my son did. There are others with lower batting averages and fielding percentages. Others still have been ejected from games for poor sportsmanship. Some have even been caught cheating or lying. Yet they all received playing time. It wasn't fair.
And yet unfortunately, life isn't always fair. For a kid who has seen his hard work and dedication routinely yield positive results, it's understandably a bit of a rude awakening for my son — albeit a necessary one that I hope will help prepare him for the inevitable real world experiences to come.
4. He's realizing that actions have consequences (even if they aren't fair, see #3). My son made a conscious decision to openly support his former coach, including tendering an impassioned speech before a packed audience at a school board meeting. In the rear view mirror of 20/20 hindsight, it might be easy for him, and our family, to regret having taken that stance. But we don't; the fact is, we stood up for our convictions. And while we weren't successful in having the coach reinstated, I'm proud that my son chose to assert his allegiance.
5. He's got outside support. Many parents of my son's teammates have reached out to me to convey how sad they were to hear that he quit, especially knowing his passion and commitment to the game. Likewise, my son's teammates have blown up his phone with texts of encouragement, and his older brother has been a vocal champion despite being away from home playing college baseball. Perhaps the most meaningful validation came from one of my son's former high school coaches, who had heard about his resignation through the grapevine. He told us that he not only fully endorsed the decision, but agreed that staying on the team would have been a waste of time.
6. He deserves better. And in just a few short months, he will get it. Thankfully, my son is part of a travel ball organization where he receives positive coaching, constructive criticism and an opportunity to shine. He will return to the lineup, resume his spot at third base, focus on college recruitment and hopefully, allow the disappointment of this season to fade to a distant memory. Most likely, he will even be back on the high school field for his senior year, as administrators have promised to reopen the head coaching position to find a permanent replacement.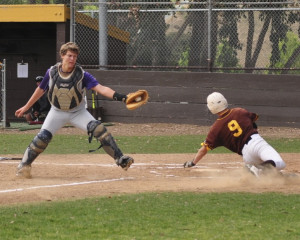 While we aren't the only family unhappy with the current baseball program, most parents have insisted that their players finish out the season, and I respect that. Perhaps baseball for their boys is more pastime than way of life, like it is for my son. Maybe their kids haven't been focused since Little League on earning a scholarship and playing college ball, as my son has. Maybe their offspring are less sensitive than mine, better able to "tough it out" on the bench. Maybe they just don't want their kids to give up. I don't know their particular reasons, but without question, supporting my son's desire to quit was the best thing I could do for him.
But it hasn't been easy — for him or for me. More than anything, I miss watching my boy play. So for the next couple of months, I guess I'll just look forward to travel ball season and focus on the positive — savoring my brief hiatus from washing mounds and mounds of dirty baseball uniforms.